STAFF SENSITIZATION ON ANXIETY AND STRESS MANAGEMENT IN THE WORKPLACE DURING DURING THE  COVID -19 PANDEMIC
 ANXIETY AND STRESS IN THE WORKPLACE DURING COVID-19 PANDEMIC
It has come as no surprise that several people have requested to be tested for COVID-19.
Anxious individuals imagine the "What ifs" in situations like the one of COVID-19 and as a result experience fear and worry.
Chronic anxiety and stress can have impact in the workplace due to consequences such as burn-out, depression and stigma among others.
In this regard, UHS has organized a schedule of staff sensitization on how to cope with stress, anxiety and stigma at workplace during COVID-19 pandemic (enclosed, please find the proposed schedule).
In due course, we have plans to have students sensitized on the same issues.
Kindly help in circulating the memo to the respective Colleges/Departments for information and making the necessary arrangement with the UHS resident Psychiatrist Dr. A. Gitari(0722 310821) and Clinical Psychologist Ms. E. Sumbeiywo(0722 338 666).
Thank you for your continued support.
STAFF SENSITIZATION ON ANXIETY AND STRESS MANAGEMENT DURING THE
COVID -19 PANDEMIC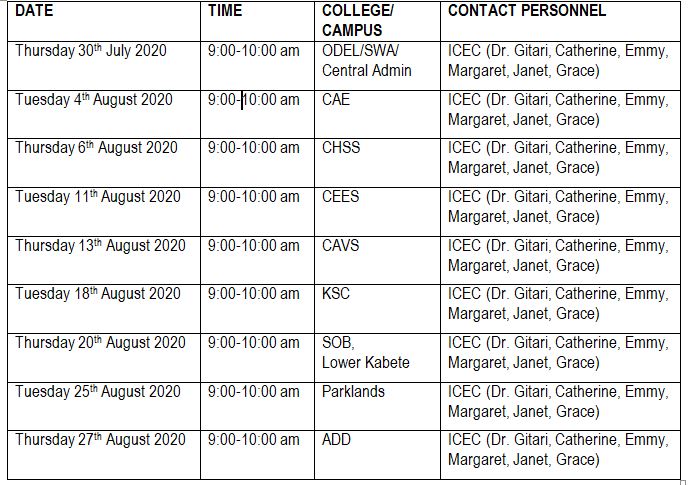 *Key: ICEC      -           Integrated Counseling and Education Centre
*Contact Personnel Numbers:
Dr. Anthony  Gitari             -           0722 310 821
Ms. EmmySumbeiywo       -           0722 338 666
Ms. Catherine Musyoka     -           0721 723 514
Ms. Janet Nyaga               -           0733 856 232
Ms. Margaret Njiru             -           0722 860 449
Ms. Grace Wairimu            -           0721 323 544
Dr. L. Muhia
Ag. Chief Medical Officer, UHS