TRAINING OF INFECTION, COVID -19 PREVENTION & CONTROL (IPC) MEASURES
In the midst of COVID-19, all frontline workers should have the necessary skills and knowledge to implement the recommended Infection, Prevention and Control (IPC) Interventions.
In this regard, the various Section Heads have been requested to organize and make sure all members under them are trained on IPC measures.
Subsequently, the UHS members of staff in various campuses should carry out sensitization of IPC measures among other members of staff in their respective colleges.
Enclosed herein, please find the training schedule for preparations.
SCHEDULE FOR VIRTUAL INFECTION PREVENTION CONTROL TRAINING FOR UHS STAFF FROM 29/07/2020 TO 31/07/2020.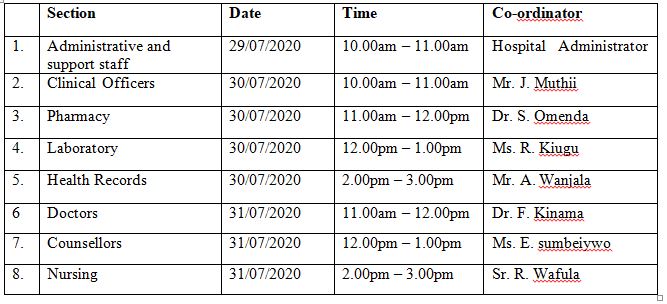 DR. LUCY MUHIA
Ag. Chief Medical Officer
University Health Services
LM/mwk