The University of Nairobi in partnership with the Equity Group Foundation and the Kenya Forest Service facilitated a community tree planting exercise at the University of Nairobi's Upper Kabete Campus on Tuesday May 18th, 2021.
Equity Group Foundation donated about 7,000 trees which were planted in identified grounds at the College of Agriculture and Veterinary Services and the Wangari Maathai Institute. In light of the COVID-19 Pandemic, tree planting is now viewed as a necessary exercise to promote the production of oxygen.
"When you plant a tree you plant the seed of peace and hope," noted the Vice Chancellor, Prof. Stephen Kiama as he recalled the words uttered by the Late Prof. Wangari Maathai an avid champion of tree planting and environmental preservation. The Vice Chancellor encouraged tree planting as an integral part in promoting biodiversity, giving future generations hope and a conducive environment to thrive in and most importantly a necessary component for conserving the environment.
Mr. Polycarp Igathe, Chief Commercial Officer, Equity Group affirmed Equity Group's continued commitment to partnering with the University especially where tree planting was concerned.
"In the last one year we have planted over four million trees and today we join you in the exercise of executing the planting of 7,000 more trees. As we plant these trees I want to assure you, the University community that we are partnering with your Mombasa and Kisumu Campuses towards ground cover of the same."
The Chief Conservator of Forests, Kenya Forest Service, Mr. Julius Kamau,  noted that  'The Kenya Forestry service (KFS) was honoured, not only being invited to celebrate with the University but also for being chosen as a partner in this tree planting initiative. Mr. Kamau congratulated the University for its tree planting efforts and assured those present that KFS is committed to upholding Wangari Maathai's legacy in the protection and provision of green spaces across the country.       
Mr. Waweru who was the representative of the County Commissioner, Nairobi County, spoke of the Kazi kwa Vijana programme which is helping the youth in the hard economic times brought about by the COVID-19 Pandemic.  The initiative which is taking place in conjunction with Universities and Polytechnics such as the University of Nairobi and the Kabete Polytechnic, engages the youth in environmental activities such as tree planting and clearing water ways.
The theme for the day was UON@50: Partnering in Afforestation beyond the COVID-19 Pandemic.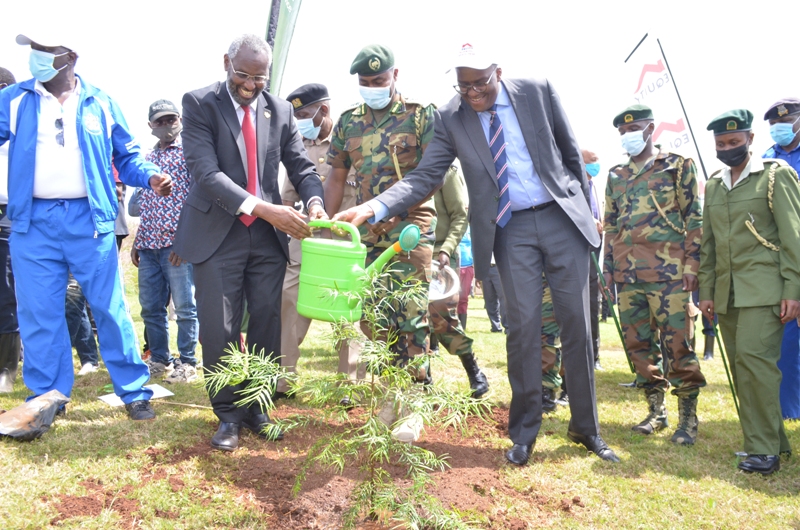 From left to right: Professor Stephen Kiama,Vice Chancellor, University of Nairobi,
Mr. Julius Kamau, Chief Conservator of Forests, Kenya Forest Services and
Mr. Polycarp Igathe, Chief Commercial Officer, Equity Group Holdings.